The Freedom in the World 2022 report from Freedom House gives the U.S. a grade of 83.  The U.S. has been in decline for the last 10 years.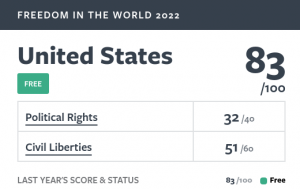 This was a decline from the 2019 score of 86, mostly the result of the January 6th assault on the U.S. Capital by Trump supporters and continued threats and intimidation of politicians and election officials throughout the country.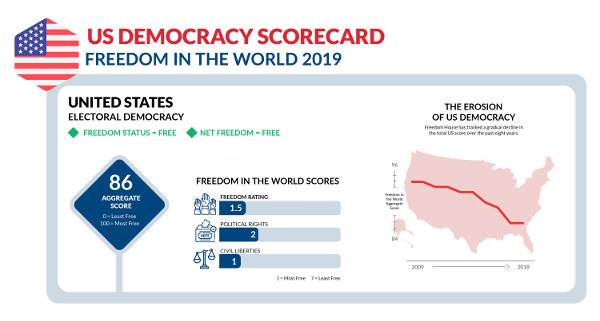 In a national poll conducted in 2018 by Freedom House, the George W. Bush Institute, and the Penn Biden Center, 68 percent of Americans agree that America's system of democracy these days as getting weaker.
Can We Keep Our Republic?
The famous warning by Ben Franklin seems appropriate today as it was in the beginning of our country.  Just how do we keep this Republic strong?  This is my take on what is needed now:
Educating the citizenry about principles and concepts of democracy;
Taking the time to understand the issues and apply critical thinking to avoid disinformation;
Voting and protecting that right for all U.S. citizens;
Standing up for what is right regardless of party policies or objectives.
In my lifetime, I have seen my rights and freedoms slowly eroded away without knowing what to do about it.  I personally plan to take this organization to the next level to accomplish some of the thing listed above so we can keep our republic!